Profile
Don't Forget to Breathe
Your Hand Touches My Cheek as You Whisper Softly
Free Account
Created on 2015-10-27 08:32:59 (#2456201), last updated 2015-11-06 (98 weeks ago)
120 comments received, 145 comments posted
15 Journal Entries, 39 Tags, 0 Memories, 15 Icons

About
| | |
| --- | --- |
| Name: | Kokoro Amamiya |
| Birthdate: | Jan 5 |
| | |
| | |

Mini Bio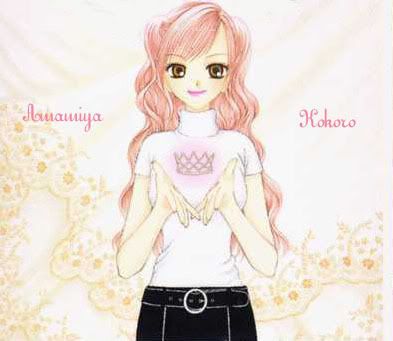 Amamiya Kokoro
I want to be a photographer! Is that so much to ask?
Name: Amamiya Kokoro
Age: 17
Class: 2-B
Likes: Milk, tofu, photography, cameras, Ishida-kun, Kramer-sensei
Dislikes: Meat, weird smells, photography chemicals, Suguru's stupid haircut
Three-size: None of-Your-Business
Club: Volleyball Team

Bio:Kokoro was destined for a life of weird things at birth. Her father is a wildlife photographer and does a lot of traveling, her mother is a housewife. Kokoro has no siblings. Despite being perfectly normal, the Amamiya family home is decorated in some of the strangest pictures. Before long, the little girl was taking pictures with disposable cameras. She knows her life isn't particularly 'normal', but likes to believe that she is. When Kokoro was a little girl, her biggest dream was to be a beautiful bride. As she grew older, she grew taller, and soon there were modeling contracts being offered for such a tall and pretty girl.



Her mother, however, was against the whole thing. She didn't want her daughter to be caught up in a dizzying, often frightening (wasn't it true about some companies and the porn industry?) world of show business. Kokoro's dreams of gracing a stage in Milan were dashed; she turned further into her father's world of photography. Ayamiya Kazuma was very surprised at the sudden bloom in Kokoro's interest, but made sure to carefully cultivate it. Eventually, Kokoro's interest changed from wanting to be a model to wanting to be a fashion photographer.


Through middle school and into high school, Kokoro's free time was spent photographing people and interesting clothing. When high school rolled around, she wanted to go to a school that would look good in a future interview and chose the ungodly difficult exam for Kikuryou. She wasn't sure she would pass, and waited anxiously for her results. Kokoro liked to joke that she kept the antacid industry in business during the waiting period for her acceptance.


Kokoro's first year was very sedate, despite the fact that rumors flew everywhere for all the weird things that went down, she never experienced any of them. It was a little disappointing. She started dating Ishida Hideki (Class 2-D) in the middle of the last school year and they've been dating for six months. Kokoro really loves Ishida, but is still a virgin. Her firm hold on her virginity has strained their relationship some. Well, it's strained it a lot; you try being a seventeen year old boy with a girlfriend that won't put out.


Aside from photography, Kokoro enjoys sports, especially volleyball. She feels very excited to be working with a team to acheive a goal. Besides, there hasn't be a girl yet that's been able to block her powerspike.



Kokoro is a member of Ghost*Sugar RP and sadly not real, sorry boys.
credits: profile

People
[View Entries]

Communities
[View entries]

Member Of (1):

Subscriptions (3):

Administrator Of (1):

Feeds
[View Entries]

Subscriptions (0)

Linking
To link to this user, copy this code:
On Dreamwidth:
Elsewhere: